MapLarge on AWS Marketplace
MapLarge delivers access to the relevant and valuable data buried in Big Data and provides faster insights with lower risk to enhance business decisions. The MapLarge platform improves time-to-value by enabling the real-time analysis and visualization of geospatial Big Data to help users see the complete picture. Analysts are empowered to discover the unknown at the speed of thought by starting with entire ecosystems of data encompassing billions of rows, and following with tools to iteratively pare down the data to find the "needle in the haystack." The platform provides a new view of data for improved decision-making, planning, and collaboration across the enterprise.
MapLarge provides all of the necessary components for enterprises of all sizes to create scalable, flexible, cost-effective end-to-end solutions analyzing billions of records. The open standards-based platform with robust APIs is often embedded in work flows or dashboards of other enterprise systems (such as business intelligence and analytics) to help companies visualize the impact of Big Data and create understandable models to help drive business forward. Organizations gain a very flexible platform to scale applications in real-time and on demand through the AWS Marketplace.
---
Contact MapLarge Technical Support
Email: help@maplarge.com
Phone:855-627-5274
+1-404-946-0296
Hours: 9am-5pm EST (GMT -5), Monday-Friday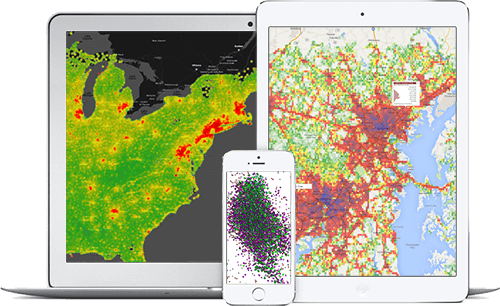 ---
MapLarge Subscription Pricing
A MapLarge Subscription also includes commercial support and maintenance to ensure your MapLarge deployment remains responsive, secure and stable for the validated configurations. Commercial support provides direct access to MapLarge technical experts and committed service levels. Software hotfixes and patches are issued as needed to ensure the environment operates as defined in the compatibility matrix.
---
Resources