Fast and accurate drive time estimates are invaluable when researching business expansion, residential and urban growth, sales and marketing contact and distribution, routing, performance in relation to competitor's locations, and projected consumer spending.

POWERFUL INSIGHTS
Drive Time Zones
MapLarge's DriveInsight tool enables businesses to analyze site locations, identify and retain customers, target new markets and existing trade areas, and examine competitors in both distance and time segments.
Realistic Drive Times
Accurately simulate driving time and distances for critical marketing and planning analysis. Evaluate existing and new store locations, market to a specific drive time area with detailed demographic reports, construct incremental drive time assessments for service delivery, route planning, and logistics planning. Answer strategic business questions with an effective drive time analysis solution.
INTERACTIVE INFOGRAPHICS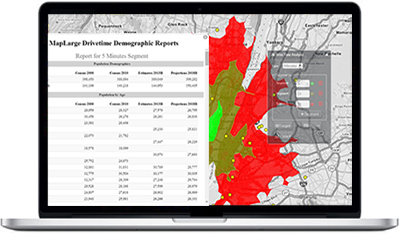 Drive Time Data + GeoEnrichment
Understanding the characteristics of people who live in a drive time radius will help resolve the question, how long and how far are people willing to drive to reach a location? Analyze the demographic profile of the population within a 10-minute drive time of a store with a color coded drive time map and detailed report. Custom proprietary data can be added to enhance drive-time zone results.
GETTING STARTED
Take a test drive with MapLarge's DriveInsight. Map drive time zones for your business.