Enhance User Experiences & Interactions • Save Development Time • Thematic Maps and Heat Maps of Big Data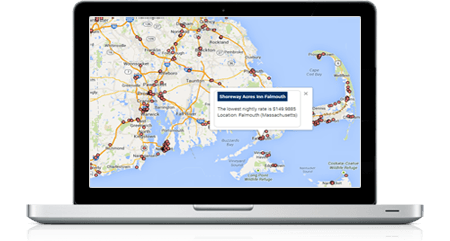 FASTER WEB PAGE LOADS & MAP UPDATES
Experience incredibly fast loading online maps and analytics with MapLarge. Complex shapes with millions of vertices can be uploaded and displayed in seconds. Rendering a nationwide map of 74 thousand census tracts as a detailed visualization means the rendering engine has to draw 16 million vertices as well as the data. MapLarge is designed to render this magnitude of data dynamically on-the-fly.
INTERACTIVE MAP FEATURES
More interactive map features lead to increased customer interaction.
Balloons Pop Up when a user clicks
Shapes highlight and display information when a user hovers the mouse over the shape
Include detailed demographics for locations
Map searches
Filter data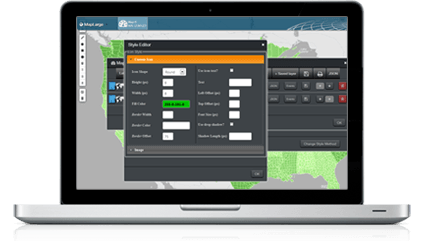 CUSTOMIZABLE MAPS
The MapLarge API and map tools allow you to customize maps for impressive presentation and to suit the needs of your users. Dynamic insight improves analysis and decision making.
Customize and style balloon content
Customize size, coloring and styling of shapes
Customize the size, shape and color of icons
Use custom images for icons
Customize the styling of list data associated with the map
MAP SEARCH CAPABILITY
Giving users the capability to search the map leads to longer interactions. Unlike many maps that only offer static content, MapLarge users can explore the map for data that meets their needs.
Map Searches take only a few seconds even if the dataset has millions of records
Search for map items that meet user criteria
Full text search capability
SAVE DEVELOPMENT TIME
1. Streamlined Integration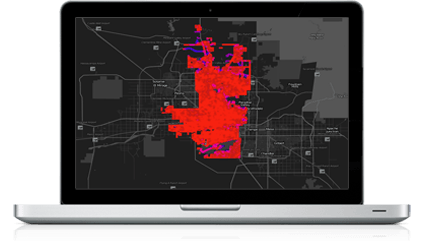 Provide your Data (Shapefiles, DBF, or CSV files) to our API; MapLarge analyzes the data and creates a map; Embed a few lines of code in your HTML to share the map online with your users.
2. Hosted Solution
Minimizes your configuration to just a few lines of code. MapLarge provides the horsepower to deliver a scalable mapping solution.
3. Mobile Ready
We can easily enable your mobile applications with the same high performance mapping application.
4. Customization
Customize the map design with minimal HTML and Javascript. MapLarge's mapping software can custom design the mapping application to your business's specifications.
THEMATIC MAPS OF LARGE DATASETS
1. Big Data
Users will benefit from the maps API whether they have thousands or millions of points or shapes. Our scalable solution can handle virtually any sized dataset or traffic load.
2. Thematic Mapping
You can see your data thematically mapped to polygons including Zip Code, Census Geography or your own custom territories and shapes. Users can search your data for patterns and MapLarge will dynamically redraw the color shading to represent the query result.