Organized vs Cluttered
The cluster map below has organized hotels in the Orlando area into numbered groups. It only takes a second to figure out how many hotels are in each location around the city. The point map shows every hotel in the same area. With all the points overlapping it is hard to distinguish exactly how many hotels are in each location without zooming in on the map.
Click on either map for a demo.
Point Map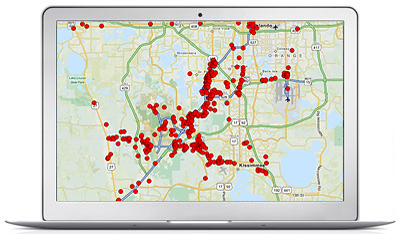 With so many dots covering each other, it is difficult to see exactly how many hotels are in a particular location.
Types of Clustering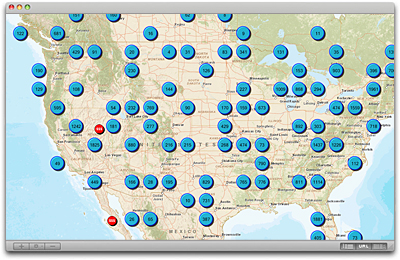 Cluster Griddy
The map is divided into squares of a certain size and the cluster marker is placed in the center of each applicable grid square. As zoom levels change so do the clusters and their location on the map but they will maintain their grid like appearance.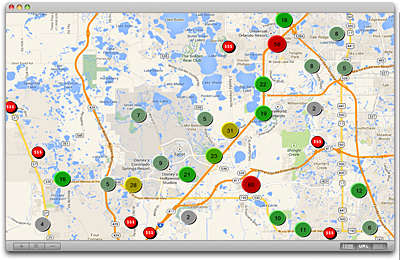 Cluster Vary Size
Cluster design can be fun and interesting. Different colors, shapes, and icons are useful for emphasizing clusters on the map. Clusters with a higher number count will stand out if given a larger size or a brighter color. This map of Orlando gives the potential visitor an idea of how many hotels are available in the area and where the more expensive hotels are located.