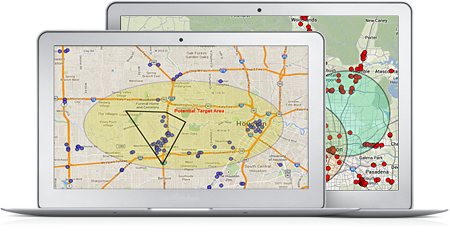 Annotations offer an easy way to accentuate specific coordinates on the map and provide additional information about them. Identify particular addresses, businesses, airports, and other types of destinations. Overlays are available to present more complex information such as routes or traffic information, or the boundaries of areas such as parks, lakes, cities, states, or countries. Both annotations and overlays remain fixed to the map so that they move appropriately when the user zooms, pans, or scrolls. Descriptive text can be placed near individual map features. The name of each major city in the US or large universities can be added to the map. Attractive fonts and colored text can be used to draw attention to an area of the map, such as the general location of Yellowstone National Park or The Grand Canyon. Improve presentation of the map with a map title to provide context along with other information such as map author, data source, and date.
Highlight and Emphasize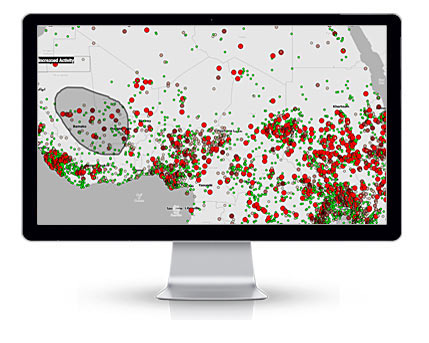 This map of armed conflicts in Africa is using freehand shapes and annotation to emphasize increased activity in the north western region.
Benefits of Annotatable/Editable Maps:
Place Annotations
Place Markers
Draw Shapes
Draw Freehand Shapes and Lines
Add Custom Images / Overlays
Add Labels
Customize colors, fills, opacity, and more!!