Create scalable, high performance mapping applications that co-exist with your existing technology and data investments.

Traditional Web Mapping Tools vs. MapLarge
Many of our customers come to us after they have spent months trying to build a mapping application using free or open source tools. Invariably, they hit a brick wall in terms of performance or scalability. While each of these tools are excellent in their own right, individually they don't provide a comprehensive solution and must be configured and customized to work together. This takes time and you will not discover any limitations until you have deployed, configured and optimized all of the components. With MapLarge, you can upload your data of any size, style it and view it on a map in minutes. We remove the technical limitations to large scale visualization and allow you to focus your efforts on what really matters – how users will consume your data, take action and create insights.
Web Mapping Benefits
Reduce Development Time and Risk
No Pre-Rendering Data or Images to Manage
Extremely Fast and Scalable
Numerous Style Options for Designers
Real Time Updates
Web Mapping Example
AIDSVu
MapLarge can create an interactive mapping platform for your website. The map can easily be embedded in a web page with a few lines of code.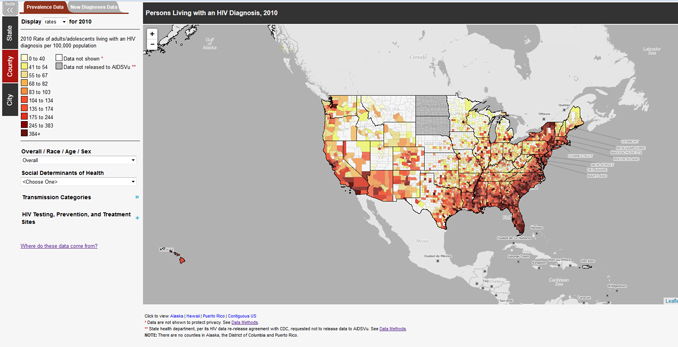 Visualize:
Upload data and instantly create and share compelling visualizations that highlight meaningful patterns in your data.
Analyze:
Interactively explore your data and gain insights using common and advanced spatial operations to do geospatial business intelligence.
Build Applications:
Millions of users engage with applications powered robust industry leading apis for mapping, geocoding, visualization and analytics.
Secure Private Data:
Securely store, access and share your data using either a private appliance behind your firewall, dedicated servers or gain economies of scale with our shared hosting api.
One Click Publishing:
Share visuals with private users or with large audiences using our flexible authentication and publishing system.
Instant API:
Instantly syndicate maps and data as persistent and open data resources using our api.
Mobile Ready:
Our servers do the heavy lifting so that any mobile tablet, phone or laptop can access billions of records with real time interactivity.