Explore spatial patterns in disease, treatment and policy outcomes using rich visual tools. Visualize patterns using real time and historical data with easy to use interactive mapping tools. Create large scale maps and detailed reports to support health organizations, reach stakeholders and influence caregivers with compelling data driven analysis.

Protecting and improving the health of families and communities throughout the world is supported by the use of sophisticated data management applications and large scale mapping solutions. MapLarge provides a robust platform for dynamically rendering and sharing large scale data so vital to an industry tasked with preventing and fighting disease. Tools built for easy customization, scalability and performance help industry professionals make informed and educated decisions.
Practical Application Uses
Research for disease control and prevention
Data collection and analysis
Promoting healthy lifestyles
Public Policy
Education and training
Support decision making
Assess current services
Biostatistics and forecasting
Awareness
Web Mapping Example
HIV CONTINUUM
Display your valuable big data sets with vibrant, multi-layered maps and detailed reports on any device. Geocode addresses to pinpoint exact locations and build interactive maps for use with analytics and pattern analysis. Shapes, clusters, heat maps, and animation are all easy to create and integrate into your technology environment.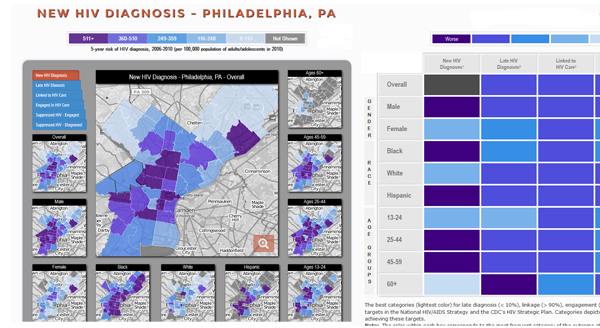 Dynamically query and display millions of records in milliseconds - your visitors can focus on the data and not long wait times. Embed in websites or use with widgets for an improved user experience.