Use the power of batch reverse geocoding to exponentially expand operational capabilities and create exciting new marketing opportunities. More precise routing information, valuable location-based demographics, and detailed nearby location information are available with MapLarge's flexible reverse geocoder technology.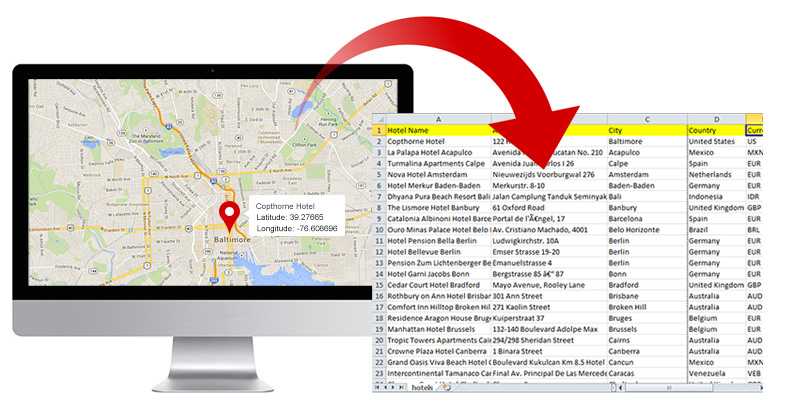 Reverse geocoding is the process of using lat and long coordinates to return street addresses and descriptive locations. An important part of mobile location-based services and Enhanced 911 is the ability to reverse geocode GPS data. Converting GPS coordinates to a readable street address is much easier for most people to understand and identify.
MAPLARGE'S REVERSE GEOCODING PROCESS IS EASY
| | |
| --- | --- |
| | Upload your latitude and longitude coordinates file to MapLarge |
| | Our server will immediately start batch reverse geocoding and return the results in seconds. Jobs under 100,000 records normally take less than 1 minute. |
| | We use advanced name matching techniques to achieve a high reverse geocode success rate. Results vary by file but you can expect to achieve accurate reverse geocodes on +/- 90% of your file. |
| | You only pay for records that are reverse geocoded. |
*There is no obligation to purchase until you decide to download the final reverse geocoded file. You can view the reverse geocode match rate and download a sample of your reverse geocoded data.
ACCURATE & COMPREHENSIVE DATA
MAPLARGE'S REVERSE GEOCODER INCLUDES DETAILED INFORMATION
House Number
Street Name
City
State
County
Census Data
Neighborhood
Census Data
Elevation
Time Zone and DST
FIPS Code
Nearby Streets
Nearest Intersection
Nearby Points of Interest
Postal Service
Carrier Route
Nearest W
eath
er St
ation
s
RICH CONTEXTUAL INFORMATION

Reverse geocoded location data can be enriched with valuable demographic and lifestyle information, including the expected age, income, family structure, housing and employment characteristics, ethnicity, lifestyle choices and much more. Identify locations and append thousands of variables to create a detailed analysis of your potential customers. Establish drive time buffers to precisely target the right consumers and tailor advertising campaigns for the most impact.
VOLUME DISCOUNTS
MapLarge is able to pass on volume discounts from our mapping customers to deliver exceptional pricing on bulk reverse geocodes. Customers only pay for the records that reverse geocode addresses. You can download a sample of your reverse geocoded data and view the number of reverse geocoded records before you purchase the reverse geocoded file.
REVERSE GEOCODER DEMO
CONVERT COORDINATES INTO AN ADDRESS
Enter lat/long coordinates and click Reverse Geocode. The nearest address will be returned. You can also click anywhere on the map and the lat/long and address will display.
Nearest Address: